Reggaeton – Pimsleur's Guide to Latin Music
[Total:

14

Average:

4.6

/5]
We continue our Latin music series with a deep-dive into the origins of Reggaeton, what the Reggaeton Beat is, and where Reggaeton is heading! We get into everything you need to know about Reggaeton. Let's jump right in.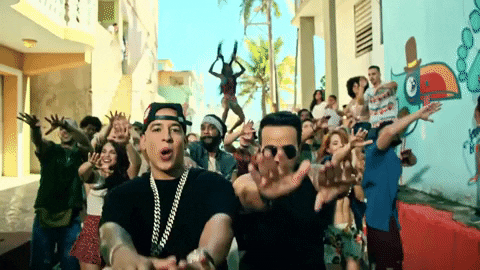 The Reggaeton Breakdown
Regions: Puerto Rico, Colombia, Venezuela, Miami
Iconic reggaeton artists: Daddy Yankee, Don Omar, Hector & Tito, Wisin & Yandel
Reggaeton is by far the most popular genre of Latin music and is taking over the world as its music climbs the global charts. But what is it about this beat that is conquering the hearts of nations everywhere?
Reggaeton v. Reggae: Where Is Reggaeton From Originally?
Let's start with a super quick reggaeton history timeline!
When Jamaican obreros (workers) started migrating to Panama in the early 20th century to help with the construction of the Panama Canal, they brought over their contagious Reggae and Jamaican dancehall music.
The first Latin reggae was recorded in the 1970s. Many artists simply translated Jamaican reggae into Spanish and sang over the melodies. It wasn't until a Puerto Rican rapper, Vico C, starting mixing hip-hop and reggae in the '80s, thus creating the early reggaeton sounds. Reggaeton actually translates to big reggae if you ever wondered how it got its name!
What Is the Reggaeton Beat Called?
From the mingling of Jamaican and Latin music, the new beat Dembow was born and consequently created what would be one of the biggest musical cultures in the world.
Reggaeton EXPLODES out of the Caribbean
The tiny island nation of Puerto Rico became the epicenter of Reggaeton in the '90s. Since then, its popularity has exploded throughout the Caribbean and the entire Latin world. This music genre offers an irresistible party beat, a distinctly Latin identity, and a high-energy expression of sex, love, and romance.
Reggaeton dance: The Perreo was born, an intense and explicit grinding that ended up being so disruptive that countries like Cuba banned it from its media.
INSIDER TIP: One of the most iconic Puerto Rican bands of all time is Calle 13, holding the record for the most Latin Grammy Wins ever (21). A lot of their lyrics are satires about politics and history. Listen to their music to boost your Spanish skills and to learn about Latin America at the same time! Also, you simply cannot call yourself Latino if you don't know their hit  Atrevete te te (check it out!)
Exponential Growth: What's the Secret to Reggaeton's Success?
The fact that people all over Latin America, the Caribbean, and the US speak Spanish gives this music a huge advantage logistically.  Even in Brazil artists have put a Portuguese language spin on the sound.
Whereas Africa, Europe, and Asia speak a mind-blowing number of different languages, Latin countries share a common cultural and linguistic thread.
The language not only fosters camaraderie and fraternity throughout all of Latin America, but it also allows music like reggaeton to spread like wildfire!
Why Does This Matter Today?
Just as country singers like Taylor Swift have gone mainstream, Reggaeton has followed the same path. Today, "Latin Pop" and Reggaeton meet in a more benign, less erotic middle-ground. American and Latino artists mix beats to create a hybrid of Reggaeton and Hip-Hop that the whole world is excited about!
Artists like Maluma and J. Balvin, Colombian singers who came from nothing, have reached billions of viewers on YouTube through this new type of reggaeton. Music is a HUGE cultural export for their country, giving it massive popularity.
BOTTOM LINE:
Origin: Reggaeton/Latin pop is almost always from either Puerto Rico, Colombia, Venezuela or the U.S.
Where Can I Hear It: Just about everywhere in the world, but especially in Latin America, Miami, NYC, and California. Reggaeton unites the masses, no matter the social class or country.
Can't-Miss: You haven't heard real old school reggaeton until you've heard this song. Check it out!
Check Out Our PlayList of Top Reggaeton Songs!
To understand reggaeton, you must know these songs! We separated them by current hits you hear now and by classic hits from the early 2000s.
Did You Know?
The music video for Reggaeton hit Despacito is the most viewed video on YouTube (5.42 billion)
Next in Our Series is an Overview of the Famous Bachata Music, Straight From the Dominican Republic!